On Saturday, June 16, 2012, a dozen electric vehicles made the inaugural drive along US Highway 2 over the 4,061-foot summit at Stevens Pass utilizing the newly-installed quick charge stations. Most of these vehicles recorded data for driving and charging; this blog is a summary and analysis of that data.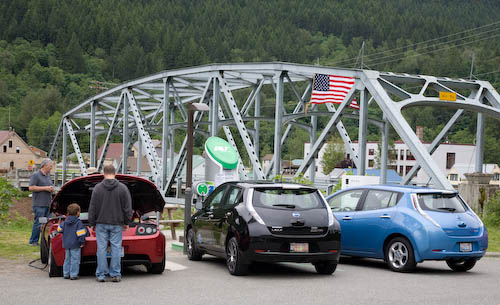 We have analyzed this data as well as measurements from other driving and have created pages with information on planning an EV road trip, including guidelines for predicting energy use based on drive conditions and tips for avoiding quick charging pitfalls.
Thanks to Ron Johnston-Rodriguez for all his work getting electric vehicle charging stations installed along US 2 and organizing this event.
Route
This event marked the official opening of DC quick charge (DCQC) stations in Sultan, Skykomish, Leavenworth, and Wenatchee, WA. It was also a test of the spacing between stations. Tom had helped with the US 2 electrification process by collecting data for driving this route in our Tesla Roadster in December, 2010, so we had good information on the energy use required for each segment.
With a carefully-orchestrated schedule from Ron, each vehicle was assigned a charging period at each station. This added a unique constraint, as vehicles would not necessarily have sufficient time for a full charge at the DCQC stations. We provided suggestions for a target charge level when departing each location and the expected energy required to comfortably reach the next station. The most demanding segment was the one over Stevens Pass; our guidance included a recommended state-of-charge level at the summit so drivers would know whether they should stop for Level 2 charging at Stevens Pass ski resort.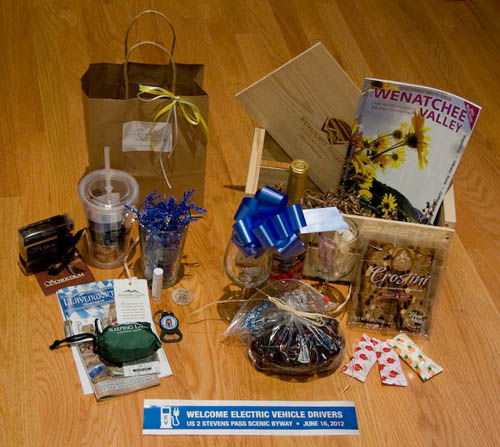 Cars
We have data from 8 Nissan LEAFs, 1 Mitsubishi iMiEV, and 1 Tesla Roadster.
The DCQC spacing worked great for the LEAFs.
The iMiEV was able to make the drive with additional charging for the segment over the pass (charging Level 2 at Stevens Pass in both directions and Level 1 at Nason Creek for the westbound trip).
The Roadster can't use DCQC stations, but with its longer range didn't need much extra energy use. Tom was able to "opportunity charge" at Level 2 while we charged our LEAF and participated in the ribbon-cutting ceremonies.
Data
For those interested in all the gory details, the data and analysis are in this spreadsheet (XLS, 214k).
Drivers recorded information on time, distance, energy, temperature, and driving conditions. The details are in the individual EV# sheets. There are summary sheets for driving and charging that compare the data for multiple vehicles.
The iMiEV (EV1 in the spreadsheet) used an amount of energy similar to the LEAFs.
There were three LEAFs with after-market state-of-charge (SOC) meters that enable more precise monitoring of battery state than the factory instrumentation. These meters show the SOC as a percentage, and also in a unit called a "gid," which represents 80 Wh of energy in the battery. The gid values fell nicely in the range of values based on the LEAF's more coarse SOC bars.
We drove our LEAF (EV4) and Roadster (EV4b) together so that we could compare energy use for the same driving conditions. They turned out to be very similar; there is a summary sheet showing the data for both cars together.
Thanks to everyone who collected and shared data: Patrick, Phil, Lee, Jeff & Mary Lynne, Matt & Laura, Bruce, George, and Mike & Kimm.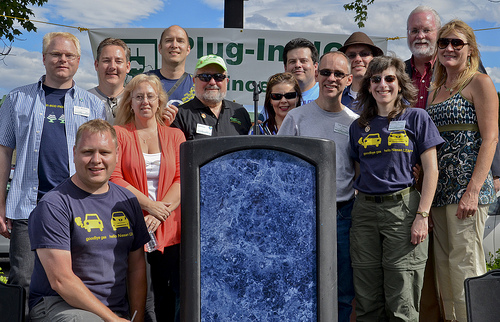 Photo by Jessie Lin, WSDOT. Used by permission.
Quick Charging
DCQC stations made it practical to make this trip (and the return) in a single day. We learned several things about the stations with all the data collected by drivers during this event.
One of the most enlightening was confirmation of an observation during our prior DCQC experience: the station-reported SOC is not a useful indication of the car's charge.
When using a DCQC from under 50% to get to 80%, the LEAF's charge rate averaged 400-500 Wh/minute. When charging from over 50% to "full," the charge rate averaged about 200 Wh/minute.
The charging overhead (energy from the station that didn't make it into the battery) was 10-18%.
More details on DCQC are on our page with tips for avoiding quick charging pitfalls.
Driving
For each drive segment, these are the minimum and maximum kWh (and corresponding gids and bars) used between the DCQC stations. The energy use will vary based on speed and weather conditions.
Trip
miles
kWh
gids
bars
Eastbound
Sultan to Skykomish
26.4
7.20 - 8.24
90 - 103
4.5 - 5.2
Skykomish to Leavenworth
51.0
12.24 - 14.88
153 - 186
7.7 - 9.3
Leavenworth to Wenatchee
20.5
2.40 - 2.48
30 - 31
1.5 - 1.6
Westbound
Wenatchee to Leavenworth
22.3
5.60 - 5.84
70 - 73
3.5 - 3.7
Leavenworth to Skykomish
51.0
12.48 - 13.60
156 - 170
7.8 - 8.5
Skykomish to Sultan
26.5
4.80 - 7.04
60 - 88
3.0 - 4.4
Conclusions
The spacing of the DCQC stations along US 2 over Stevens Pass works well for LEAF drivers. Level 2 charging at the pass is either helpful or mandatory for iMiEV drivers, depending on the driving conditions.
We believe that an SOC meter is a valuable tool when making a trip like this, especially when pushing the range limits of the car. Because we'd projected our energy use for each segment and had a meter providing a higher resolution SOC reading, we were able to minimize the amount of time that we spent charging — including successfully skipping one station — and return home with a comfortable buffer.