---
The Blue Angels at Sea Fair
August 9, 1997
At the park on west Mercer Island
On this fine Saturday, we rode our bicycles west over the first segment of the I-90 bridge and across Mercer Island to this park on the west side to watch the Blue Angels perform for Sea Fair.

Here come the jets!
Below, the Blue Angels blast over Seattle, well below the level of the taller buildings!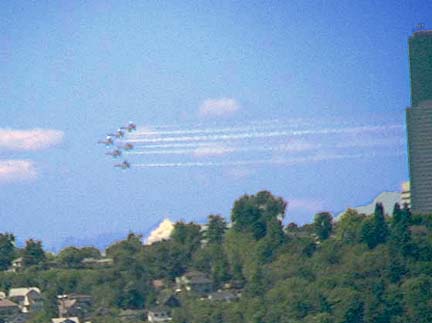 Showing off...
And here they come over to our side, then straight up, straight down, and sideways to the far reaches of the sky!
| | |
| --- | --- |
| | |
| | |
You really had to be there...
Obviously, still photos just don't capture the awesome spectacle of these amazing flying machines rocketing past in tight, half inverted formation, followed by a solo blast so close we could see every detail on the jet.
The best view of the day
In this last shot, you can see how close they are to each other, to the ground and to us. Wow!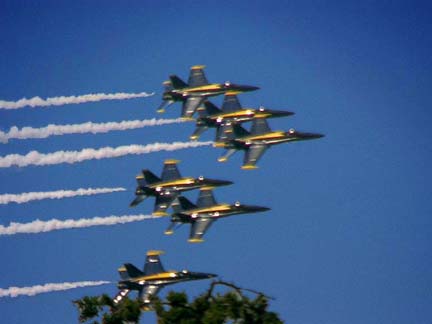 Here's a higher resolution version of the above image.
---
Technical Details
Cathy took these photos with a Sony DKC-ID1 digital camera. We edited the images on a Power Macintosh using Adobe PhotoShop.
---
©1996-2023 Tom and Cathy Saxton. You may not copy or reproduce any content from this site without our consent.