---
---
Tuesday Evening, September 5
We breezed through check-in and security at the Paris airport, so we had lots of time before our flight to hang out, and Tom got his first decent block of time to work on the travelogue. After we boarded the plane, as we passed the time we should have left the gate, we got an announcement that there were crickets loose in the cargo hold, so that had to be taken care of before we could depart. (One wonders what it is for which "cricket" is an euphemism.) We left about an hour late.
Wednesday Morning, September 6
We made up a little time in the air, leaving us with just over two hours to get to the gate for the connecting flight. That seemed great until we saw the mob at the immigration check through. We were in line long enough to make friends with two guys, one from IBM and one from an aircraft engine maintenance firm.
As we worked our way through immigration and customs, then over to the domestic gates, we had at least three people ask us where the rest of our luggage was. I guess not too many people come to South Africa with just two smallish bags.
Even though it took over an hour to get through immigration, we still made it to the gate before the boarding time. We tried to get an Internet connection, but got a scary message about the certificate for the log-in site not matching the URL, so we weren't brave enough to give up a credit card to a web page that might have been forged or hacked.
We had another bus ride from the gate to the small plane, a two-engine prop job (de Havilland Dash 8 series 300). The flight was noisy, but otherwise very nice. They did serious safety training, actually personally explaining how the emergency exits work to the people sitting in the exit row. They also fed us a nice box lunch for a flight that was only an hour and fifteen minutes long.
At the Richard's bay airport, we were met by Chantelle, one of the Zulu Nyala rangers. She had a vehicle for the six of us who had just arrived, with a trailer for our luggage. It was a bit scary sticking our luggage into a trailer, I have an inherent distrust of trailer hitches, even though I've never seen one come loose. The vehicle was just barely big enough for all of us. Tom ended up in a seat where the seat belt had no end on it, and the receptacle was also mangled. However, we extended our Italy trick and tied Tom's belt to Cathy's belt.
This turned out to be especially comforting since driving in South Africa is a whole new experience. We were on what would be described as a two lane highway in the US. There are two lanes divided by a white dashed line down the center. There was a car-wide shoulder on each side marked by a solid yellow line. Except for the switched colors, and the fact they drive on the left here, this looked pretty normal. However, they use the road very differently. The shoulder is used as a lane, even as the predominant lane, with the "normal" lane used mostly for passing. In fact, it's even more free form than that. At one point, there was an oncoming vehicle that was over the center line in "our" lane passing a big truck that hadn't pulled into the shoulder lane. The cars on our side just moved to our shoulder lane so the oncoming vehicle could finish passing. It was pretty weird seeing three of the four "lanes" being used by the opposing traffic.
About halfway, we got to some signs warning of "rumble strips" which turned out to be more like speed bumps, and across all of the lanes. It really wasn't clear what that was all about, other than shaking our teeth loose.
A few minutes after the second stretch of "rumble strips" we heard a pop and a scraping sound and someone in the back seat said, "we lost the luggage." We had our camera bags with us, but Tom's computer, Cathy's passport, and everything else was in the trailer. As Chantelle slowed down, we saw the trailer sail past us in the opposing lane. After the lane change, it drove remarkably straight as it flew down the road at highway speeds, throwing sparks, and creating a serious hazard for the oncoming traffic. One opposing vehicle did have to drive around it, but they're used to being pretty flexible with which lane they use. As we and the trailer slowed down, we watched in horror as it changed lanes again, now driving in front of us on our side of the road. As it slowed down more, it finally drifted off the road and into the grass area off the shoulder. Amazingly, it came to a stop without flipping or even turning.
When they were loaded into the trailer, the bags were pretty much one layer deep on the floor, so they didn't have much opportunity to slam around during the adventure. They probably didn't get much more stress than normal braking at a stop sign would cause. Obviously, things would have been much worse if the trailer had rolled, and horrible if the trailer had collided with an oncoming vehicle which would probably have killed someone. As it was, we just had to move some of the luggage back from the front of the trailer so we could lift the tongue and reattach it to the truck. The safety chain was no longer functional, but that didn't seem important since we had just demonstrated that it didn't do much good anyway.
The rest of the trip was pretty uneventful. The driver was at least as freaked out as we were, and was driving noticeably slower than she was previously. Welcome to Africa.
Our first three nights at Zulu Nyala are in the tents, rooms that are part tent (roof and partial walls) and part constructed walls (front wall and back bath area). The flaps of the tent flap loudly when the wind blows, and let in the sounds from outside.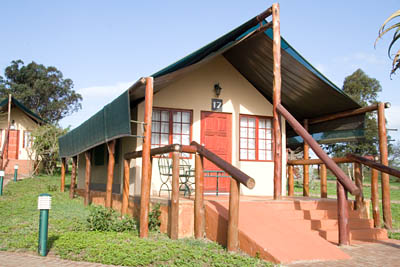 Inside you can see Tom napping on one side of the main room and the desk area on the other. The two photos almost make a panorama of the room.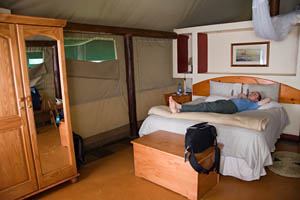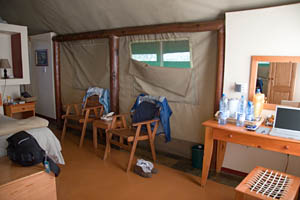 The glorious bath area. Not very rustic, all things considered.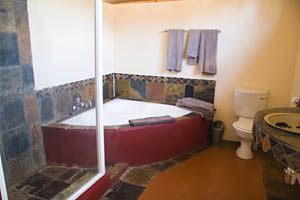 Wednesday Afternoon, September 6
Cathy was feeling a bit worn out from the travel (and a week and half of long days and short nights), and felt like she was coming down with a cold, so she took the afternoon off while Tom went on an afternoon outing.
Along with four other couples, we are assigned to Marius who would be our ranger/guide for all of our excursions into the park. The seven of us going on this trip piled into Marius' Land Rover. This is a real Land Rover, not a yuppie status symbol of consumerism. It's open just above the seats up to the canvas roof stretched across the roll cage. It's a beast, with seating for eleven and built for driving over trees.
Driving on dirt roads through the preserve, we can't go more than a few minutes without seeing something interesting. Being spring here, there were lots of young animals, even warthogs are cute when they're young. Marius also pointed out birds and plants, with interesting commentary on everything. In three hours, Tom shot enough photos that he had to switch to his second 2GB card, something that never happened on any of those all-day museum treks in Europe.
Zebra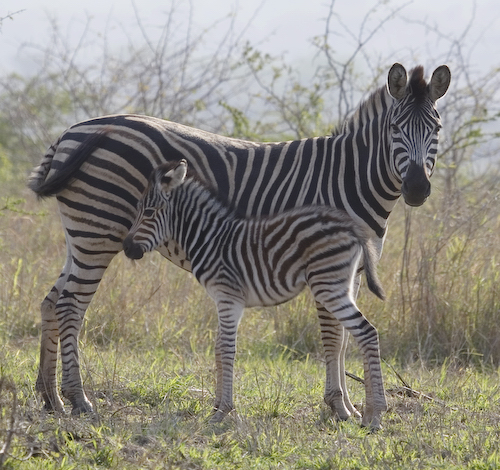 Warthogs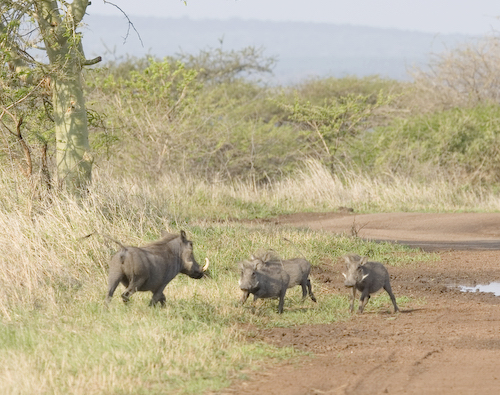 Giraffe showing some tongue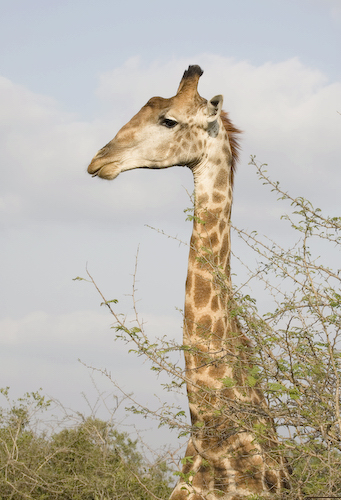 Adult male Nyala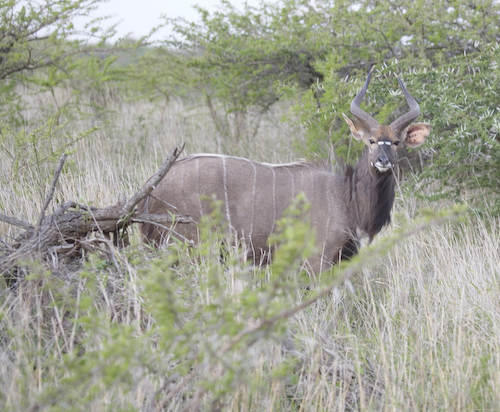 Nyala mom and fawn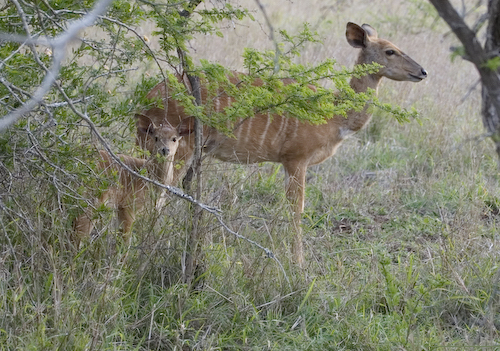 Crowned Plovers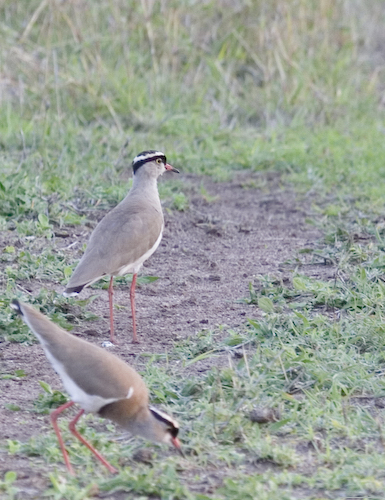 Cape Buffalo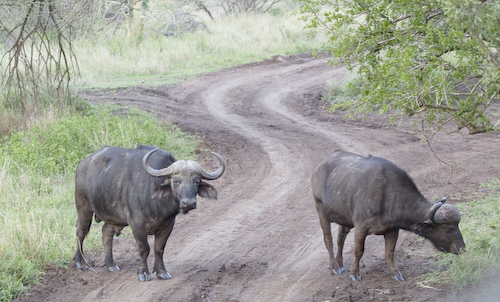 In addition to the animals pictured above, we saw vervet monkeys playing in the grass, ring-necked doves perched in a tree, and an aloe plant.
There are two exciting species in the park that are hard to find: elephant and leopard. The lone leopard in the park is very rarely seen, being a nocturnal hunter. There are three elephants in the park, and despite being large and active during they day, they can be difficult to find.
Elephants leave a path of destruction behind as the feed on leaves and roots. They knock over and upend trees to eat the roots. The can hide in dense foliage and the only way to know they are there is to hear breaking branches and snapping tree trunks.
Midway through our ride, Marius was very excited to see some broken branches and leapt out of the truck to go examine them. Having some sign of elephants, he starting pointing out tress that were knocked over or even upside down from previous elephant visits. It's been four days since anyone has seen the elephants, and some people have spent their six days here without seeing any. The hunt is on.
The lunch and dinner fare, buffet style, includes lots of salads, fruit and cheese, so there's plenty of vegetarian choices. The deserts are also various and yummy.
That night, we heard grazing outside our window. The chewing sounds and the equine snort made it sound like we had zebra grazing outside our tent. In the morning this was confirmed by others who reported hearing and seeing a zebra herd move through the area.
---
All photos ©2006 Tom and Cathy Saxton. All rights reserved.
---
©1996-2022 Tom and Cathy Saxton. You may not copy or reproduce any content from this site without our consent.